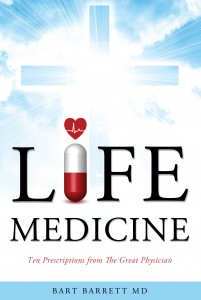 This article is a guest post by Dr. Bart Barrett, the owner of a medical practice in Huntington Beach California. Dr. Barrett is a well-known speaker and is the author of Life Medicine.
I was in a meeting with a Medical Group CEO today. The discussion turned to productivity. She wondered how, in my little office with two full time employees, we were able to achieve service and quality scores that far exceeded other offices, some with as many as 3 employees per doctor.
My quick answer was, "Teamwork!" In my office everyone pulls together. Each person has a primary area of responsibility but will step up and help elsewhere whenever the need arises.
But how did I manage to create this team atmosphere? It is embarrassingly simple- by being a team player myself. I have taken the attitude that no task is beneath me. If my staff is busy helping patients and I am not, I will answer the phone, room a patient or schedule an appointment. When our cleaning person quit, my daughter and I worked to help clean the office on the weekends.
I have come to believe that when the leader serves that the servants will step up and lead as well. When the goal of serving the patients transcends status, when no task is below me, my staff adopts the attitude as well.
I realize that if I spend my whole day doing office work I won't be effective as a doctor. Conversely, if I never do office work because it is beneath me, I will never be an effective leader.
These principles apply at home as well. While we all have our roles, the more I serve and help the more I am respected. When I value the work of my team, I value them as well. I think a good question for growth is- "Is there anything that I consider to be beneath me?" and then ponder why.
What are your thoughts?  Comment and get the conversation going.