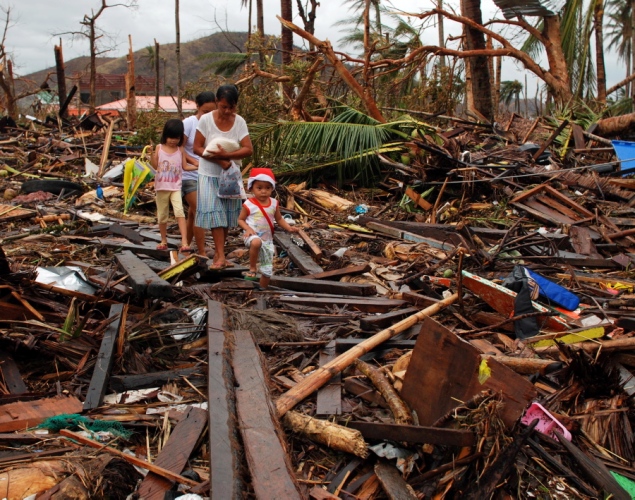 Over the past few days, we have all seen the devastation that has taken place in the Philippines as a result of Typhoon Haiyan. The storm—one of the most powerful ever recorded—slammed into the island of Leyte early Friday morning with sustained winds reported as high as 195 mph and gusts up to 230 mph, flooding coastal communities. It triggered landslides, uprooted trees, and destroyed homes and entire communities as it quickly moved across the archipelago.
Officials fear that up to 10,000 people could be dead in the city of Tacloban alone. Reports indicate that almost 650,000 people have been displaced.
Hundreds of thousands of people are without food, water, and medicine. Most of us have plenty of food to eat, and clean water. Consider helping some people who don't. Below are seven organizations that are on the ground right now.
Choose one and get involved
World Vision is launching one of its largest relief operations in five decades of ministry in the Philippines to help nearly 400,000 people affected by the disaster. The organization is seeking to raise $20 million for this effort.
$24 can provide essential supplies like a blanket and mosquito net.
$33 can supply a hygiene kit for a family.
$35 can provide a food kit to feed a family for 7 days.
$184 can give a family an emergency shelter.
$285 can provide the essentials that a family needs to survive, including food, clean water, shelter, education, and Child-Friendly Spaces.
Samaritan's Purse immediately deployed disaster response specialists, including water and nutrition experts, to the region.
The American Red Cross is already active in the Philippines. They have sent relief specialists, telecommunication specialists, and supplies. The Red Cross's tracing system in place and they are working in coordination with the Philippine Red Cross.
Habitat for Humanity is currently working on raising funds to provide 10,000 core houses, cleaning kits for 50,000 families and shelter repair kits for 30,000 families in the affected areas.
Direct Relief is collaborating with on the ground partner Asia America Initiative to deliver medical aid and flood relief supplies.
Oxfam is collecting money to rush emergency aid to the Philippines, including food, clean water, medicine, sanitation supplies and shelter.

Operation USA  is requesting donations for relief and recovery efforts and corporate donations of bulk supplies. It is also accepting air mile donations.
Please click one of the links below to share with your social network.
Enter your email above (and to the right) and I will make sure that you don't miss any posts.