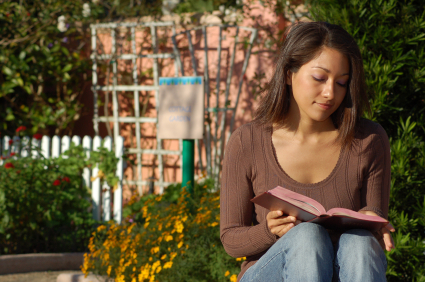 Over the years, I have tried every Bible reading plan that I could find. It seems that a million times I have decided to read through the Bible in a year. This process begins in January and might or might not end in March with the book of Numbers. Stop judging me! For nearly 40 years I have been reading the Bible, trying Bible reading plans, feeling guilty, trying to catch up, getting 45 chapters behind, giving up, and starting again. Most people that I know think they should be reading the Bible more, feel guilty about not reading it enough, and have failed at many bible reading plans. In light this, I want to suggest to you a bible reading plan that has worked well for me for quite a while, and just might work for you.
Here it is. It's Crazy. Are you ready?
Read one chapter of the Bible every day.
Yep. That's it. It's Magical. One chapter per day.
In reading a chapter per day you don't have to finish by a particular date, or read (skim) a bunch of chapters so you can check off the box, or even feel guilty is you miss a day or two. Your commitment is simply to spend some time in God's word today without guilt or legalism
Here's how it works:
Choose a book of the Bible that interests you. Read one chapter. Read the next chapter tomorrow. Read the next chapter the next day.
What if I miss a day or a week? Don't worry about it. Open your Bible up today and read a chapter.
What if I feel like reading more than a chapter today? Feel free to read more than a chapter. In fact read as much as you want to read.
If I miss a week, do I have to read seven chapters today? Nope. Just pick up your Bible and read a chapter today.
A couple more suggestions:
As you read, look for one or two things that stand out to you. What touches your heart? What have you learned? What is something that you might need to change? What is something that you're learning about God?
After you have read, think about what you read throughout the day
What might happen if you do this:
If you read a chapter of the Bible every day, you'll get through the whole Bible in approximately three years. You won't be reading the Bible every year, but how many of us successfully do that anyways?
Reading a chapter of the Bible a day will take you through the Bible 20 to 30 times in your life. I have met fewer than five people in my entire life who have ever read the Bible this many times.
Here's a checklist that you can use to check off chapters of the Bible you read them. Bible Reading Checklist
If the one year Bible works for you, continue to use it. If another Bible reading plan works for you then continue to read it. But if you struggle like many of us, consider joining the chapter a day Bible reading support group.
If you have any Bible reading successes or failures to share comment and add your insight!
Interested in free coaching through my posts? Enter your email above (and to the right) and I will make sure that you don't miss any posts!