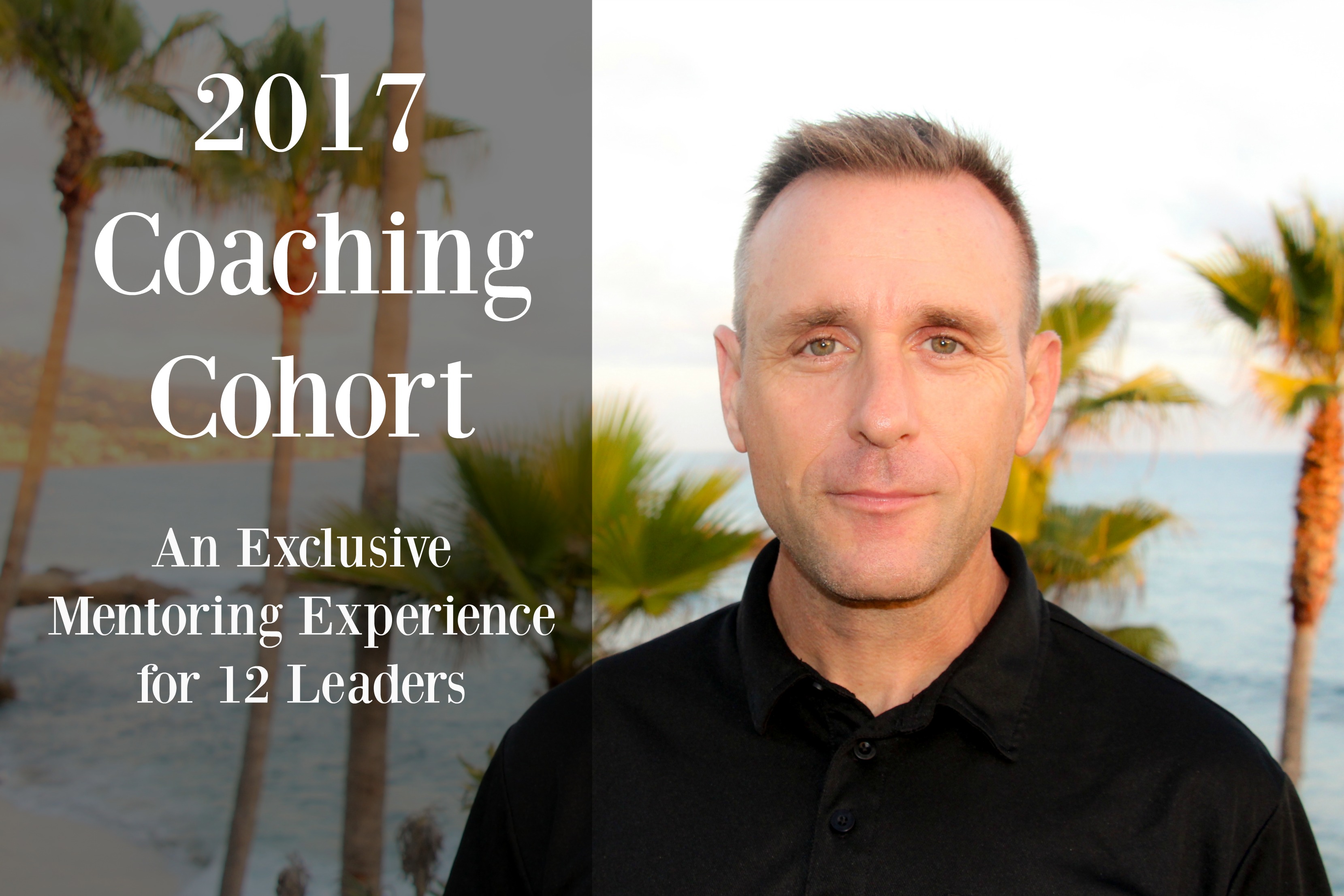 Interested in taking your Leadership to a new level in 2017? Over the last 15 years, I have coached hundreds of leaders toward personal and organizational success. I get dozens of coaching requests each month, but there is no way that I can say yes to all of them. Every year, however, I take what I have learned over 25 years of leadership, and put together a mentoring group with a select group of leaders.
I do this because I am convinced that having the right mentor, the right plan, and being surrounded by the right group of leaders is critical to moving ahead in life and leadership.
Starting today, you can apply to be a part of this exclusive mentoring experience. In 2017, I personally guide 12 leaders through:
Life Planning
Life Plan Implementation
Church Vision Planning
Vision Plan Implementation
Priority Organization
Moving from Transfer Growth to Conversion Growth
Fund Raising Strategies
Strategies for Church Planting
Strategies for Church Growth
Strategies for Leadership Development
How to Build, Lead, and Manage a Staff team
How to Recruit, Train, and Work with Volunteers
How to effectively work with an Assistant
How to build a seamless Church Assimilation process
This Coaching Cohort includes monthly group interaction and several one-on-one coaching calls over a 12-month period. Though this is a paid mentoring experience, I am offering this cohort at a fraction of the price of my regular coaching fee.
This group experience will be intensive and limited to only 12 leaders. To make sure the group has the best possible chemistry, I require an application and interview process.
I expect this group to fill up quickly. The application period for this cohort is only open until December 2. 
Interested? Apply Here!
---
Coaching Cohort Alumni Testimonials:
Brian's Coaching Cohort equipped me greatly on both a personal and vocational level of ministry.  My health, and the health of my family and Church body are better having participated this past year.

Loren Anderson
Pastor, The Fellowship at Bend
Every pastor needs voices in their lives to help them become all Jesus intends for them to be. Brian is uniquely gifted to be one of those voices. I couldn't recommend this cohort more highly.

Rodney Hobbs

Lead Pastor, Stonegate Church
As someone who is in a visionary leader role, I've spent countless hours sitting at my desk spinning my wheels stressing if me and my team are doing the right things. Brian Howard's coaching cohort has equipped me to better steward the leadership potential within the team I serve alongside, and the local body I have the joy of serving.

Randy Sheets
Pastor, Soma Tacoma
As a growing church, it is easy to stall out when it comes to hiring, building teams, training staff, and keeping up with developing more leaders. Receiving coaching from Brian Howard has been pivotal for me, as well as our church as a whole, when it comes to these challenges. He not only has been able to help me resolve my current roadblocks, but he has also helped me strategically and intentionally plot out the future.

Ty Neal

Pastor of Preaching & Vision, Gracepoint Vegas
This cohort was like a crash-course in effective church leadership. Brian's experience as an executive leader is both broad and deep. He's a skilled communicator, and his teaching is both thought-provoking and actionable. I was immediately applying content after sessions. He speaks to issues that we never discussed in seminary, yet are crucial to leading the church. Further, I've never experienced such a helpful peer-learning environment. The guys in my cohort consistently pushed me to become a better leader, both through their words and their example. I highly recommend the experience.

Jeffrey Bruce

Associate Pastor, Creekside Community Church