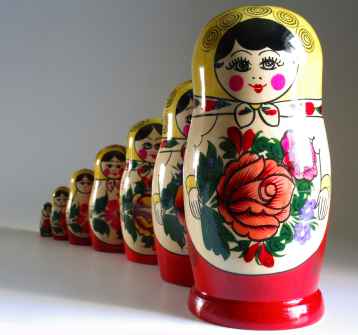 By Bobby Gilles
Have you ever seen a Russian doll? The name actually refers to any set of wooden dolls of decreasing size, placed one inside the other. In my office at Sojourn Church sets a Russian doll from a family friend's trip to Russia just after the Cold War ended. The largest doll bears the image of Boris Yeltsin, and each smaller doll resembles a Soviet leader, all the way back to a tiny Lenin.
Why would a red-blooded Hoosier boy keep a set of wooden Soviet dictators on his desk? To remind myself of an important lesson that legendary advertising executive David Ogilvy taught his proteges. When Ogilvy hired a new ad man, he presented him with a Russian doll and made him unpack each wooden character in turn, down to the tiniest. Then he'd deliver his lesson:
If you hire people smaller than you, look how small our company will eventually become.
This is great advice, which is why I keep my own Russian doll near me. But what good does it do to surround yourself with "bigger" people, if they don't help everyone else grow? "Hire/mentor/recruit those who can be bigger than you" is fine as far as it goes. But make sure they want to help you grow as well.
In Renegades Write The Rules: How The Digital Royalty Use Social Media To Innovate, social media consultant Amy Jo Martin writes:
"My friend Lucy Danziger, Editor-in-Chief of SELF Magazine, once told me that her secret to success was hiring only people who are smarter than she is. Everyone who works for Lucy knows it's his or her number one duty to teach her and one another. It's their job to show up, work hard, teach, and learn. Intuitively, I've always understood this concept, but referring to it as 'hiring a team of teachers' brought it home for me and offers a refreshing slant to company culture."
In my own work with pastors, church planters, worship leaders and independent musicians, I stress these same points that Ogilvy, Martin and Danziger make. We become better in community, through community — especially when we carefully choose our collaborators, mentors, proteges. I've written songs with co-writers who possess skills I lack. I work on a church communications team with co-workers who possess skills I lack. I work for pastors who possess skills I lack. Because of them I do a better job now, and I become able to do a better job in the future.
Church planter, are you assembling a team of people who possess skills and experiences you lack and a desire to share them?
Young father and mother, are you looking for mentors — older men and women who have raised godly children?
Entrepreneur, are you building a company with strong personnel, each willing to teach, learn, and carry the company to greater and greater heights for the glory of God?
Build a team of teachers, each who is also willing to learn.
And the things you have heard me say in the presence of many witnesses entrust to reliable men who will also be qualified to teach others. — 2 Timothy 2:2
As iron sharpens iron, so one man sharpens another. — Proverbs 27:17
Bio:
Bobby Gilles is Director of Communications for Sojourn Community Church, a worship songwriter, and author of the children's book Our Home Is Like A Little Church. He and his wife Kristen, a Sojourn worship leader, blog about church communications, worship and songwriting at MySongInTheNight.com.